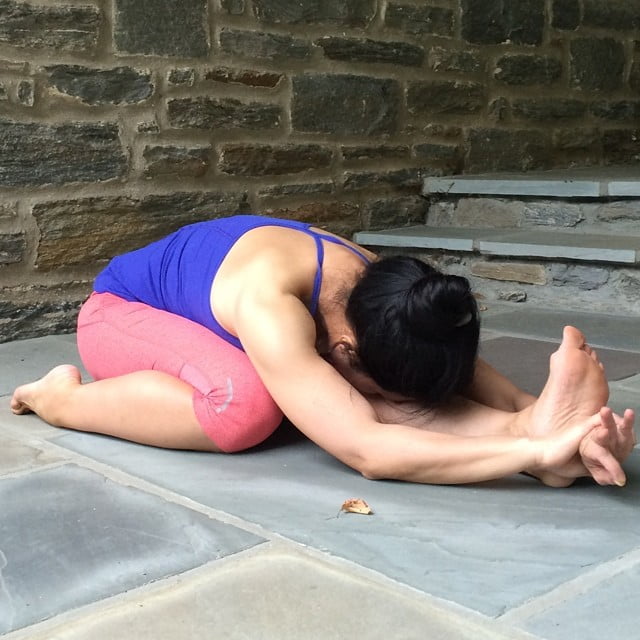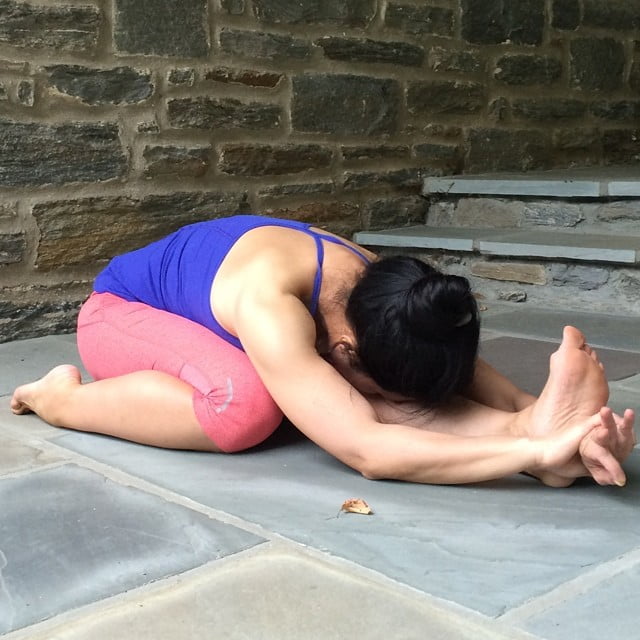 Sanskrit Name: Trianga Mukhaikapada Paschimottanasana (त्रिअंग मुखेकपद पश्चिमोत्तानासन)
English Name: Three-Limbed Forward Bend
Type of Yoga: Ashtanga Yoga
Level of Yoga: Advanced / Intermediate
Duration: As per your capability or 30 to 60 seconds on each side
Target Area: Ankles, Thighs, Groin, Arms, Shoulder, Abdomen and Vertebral Column
Strengthens: Abdomen, Back, Thigh
This posture improves the digestive system and also makes the spinal cord flexible. Trianga Mukhaikapada Paschimottanasana is suggested for individuals who suffer from flat feet and dropped arches. It also cures twists in your knee and your ankle, and any inflammation in your leg.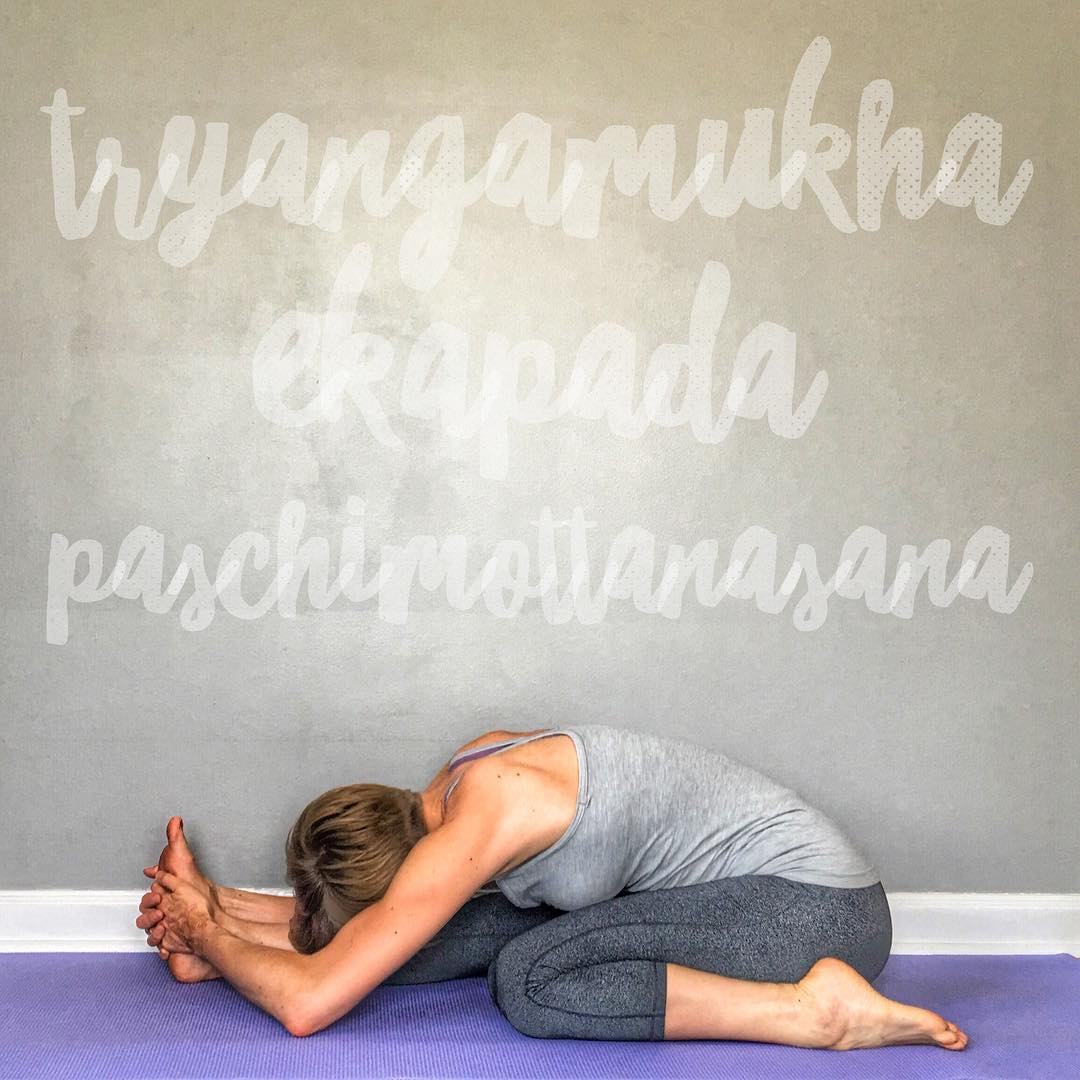 What Does It Mean By Trianga Mukhaikapada Paschimottanasana?
The term Trianga Mukhaikapada Paschimottanasana is composed of seven Sanskrit language words
Where the first word is "Trianga (त्रिअंग)", which means "Three-Limbed"
The second word is "Mukha (मुख)", which means "Face"
Then the third word is "Eka (एक)", which means "One"
The fourth word is "Pada (पद)", which means "Leg"
And the fifth word is "Paschima (पश्चिम)", which means "West/Back"
The sixth word is "Uttana (उत्तान)", which means "Intense Stretch"
Finally, the seventh word is "Asana (आसन)", which means "Yoga Pose"
This asana is also known as the Three-Limbed Forward Bend in English. Regular practice of this yoga posture tones your abdominal organs as well as keeps abdominal organs free from sluggishness.
Let's now check out the method of doing Trianga Mukhaikapada Paschimottanasana with step by step instructions as well as its health benefits. Here are the details of Three-Limbed Forward Bend.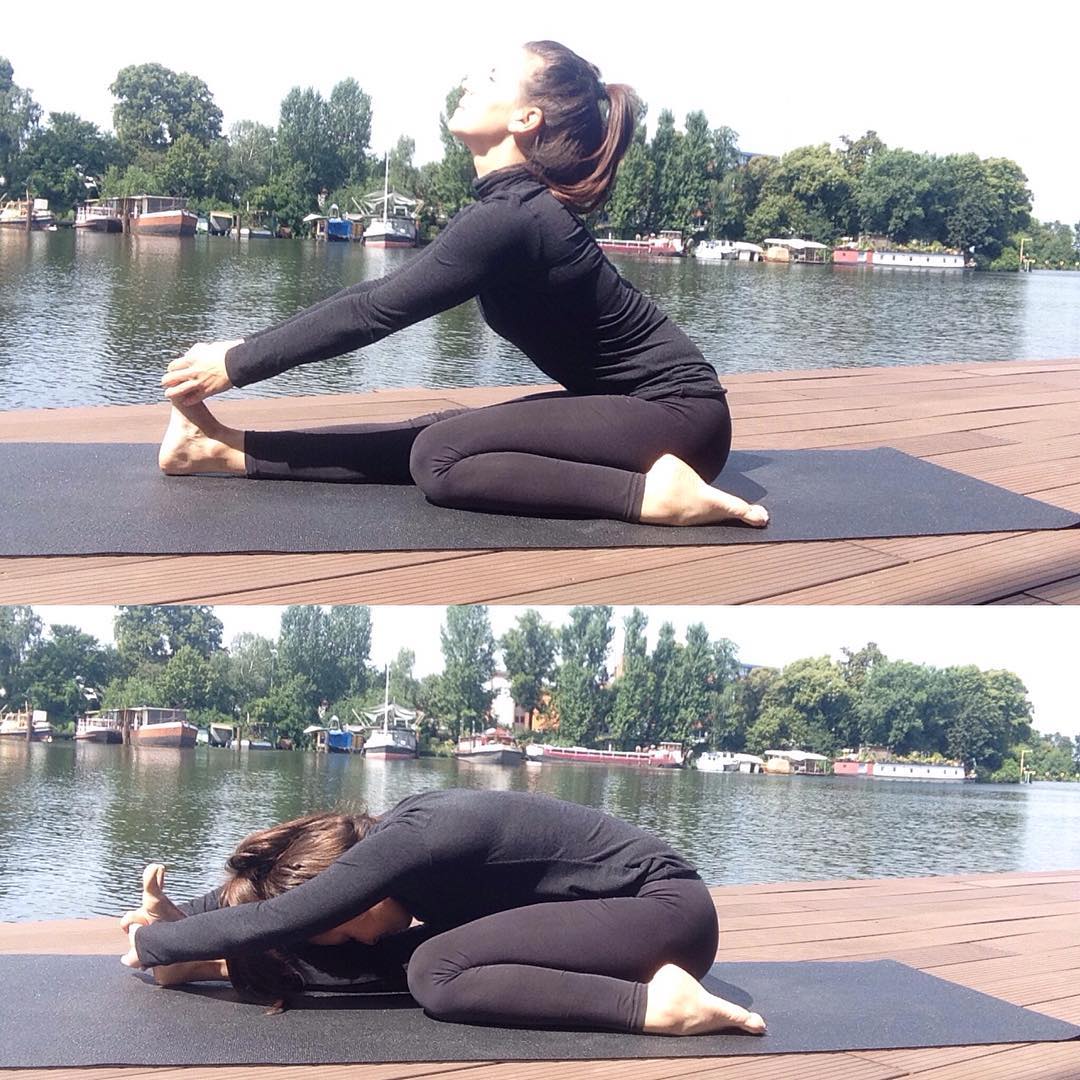 Preparatory Poses of Trianga Mukhaikapada Paschimottanasana: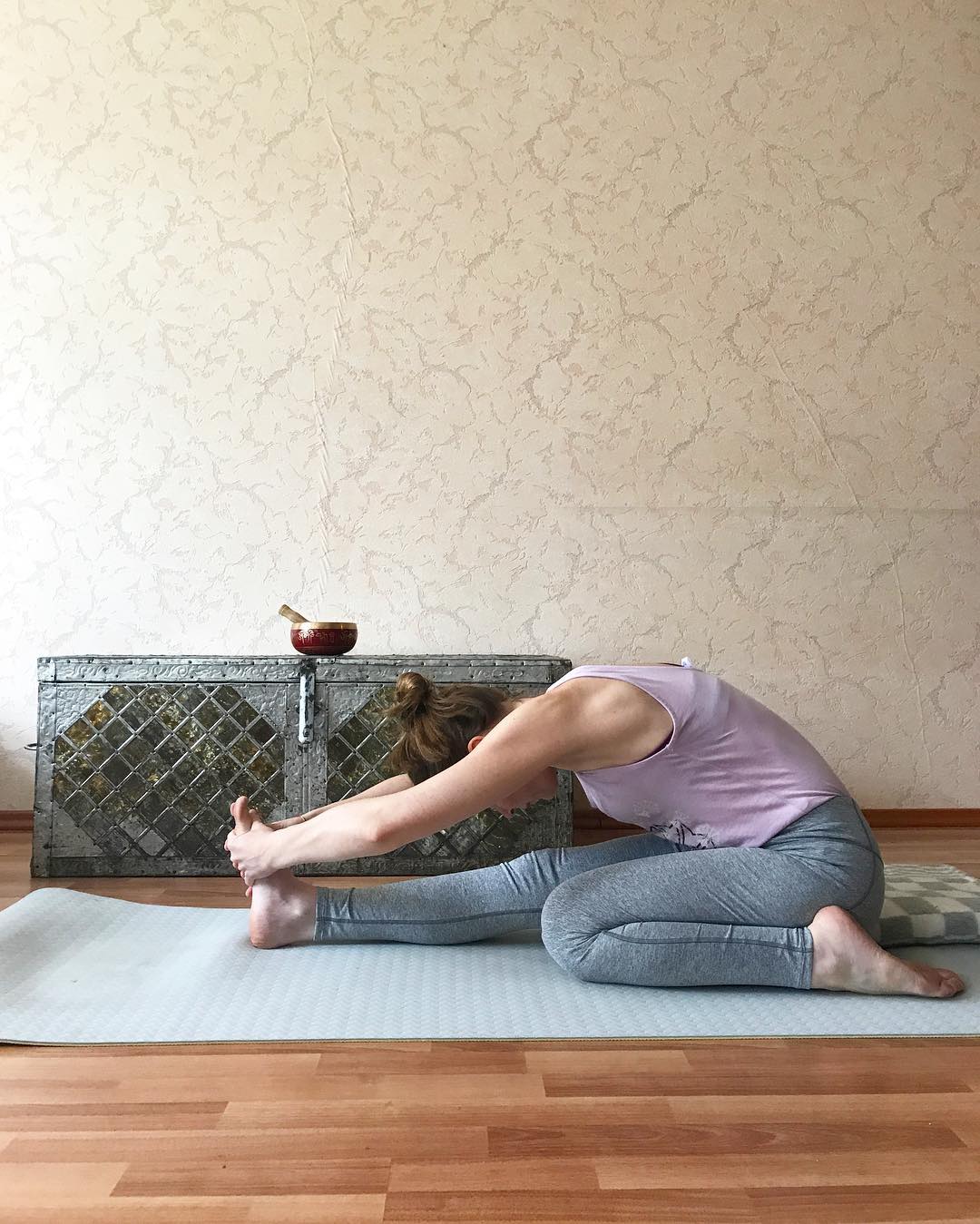 Method Of Doing Trianga Mukhaikapada Paschimottanasana:
At first, sit in Dandasana or Staff Pose on a yoga mat
Trying to extend your spinal cord, press the floor with your hands, and inhale
Inhaling, lift your right leg and fold it backward
Take as much as you can without forcing your ability
In this posture, your right knee and your right hip should be hinged on the floor
Exhaling, lean the joints of your hip but don't bend the joints of your waist
Breathe normally while you bend down
Hold the left foot with both hands as shown in the picture
Try to touch your left knee with your forehead (do not forcefully do so)
Stay in the asana for about 30 to 60 seconds
Gradually, such as flexibility and strength in the body, you can increase the time
Keep in mind that you must keep your back straight and come back only from the joints of your hip
Now come out of this posture and repeat all the steps with your right leg
Beginner's Tips:
If your hips or hamstrings are low, then you will not be able to bow completely forward. Make as much as you can, do not forcefully try to bow completely
In case your hips are less flexible then your hip will not touch the floor. If this is so, then put a towel under your hip and keep the hip on it
If your leg does not turn backward completely, let go as far as you can and do not force it backward.
Follow-up Poses of Trianga Mukhaikapada Paschimottanasana: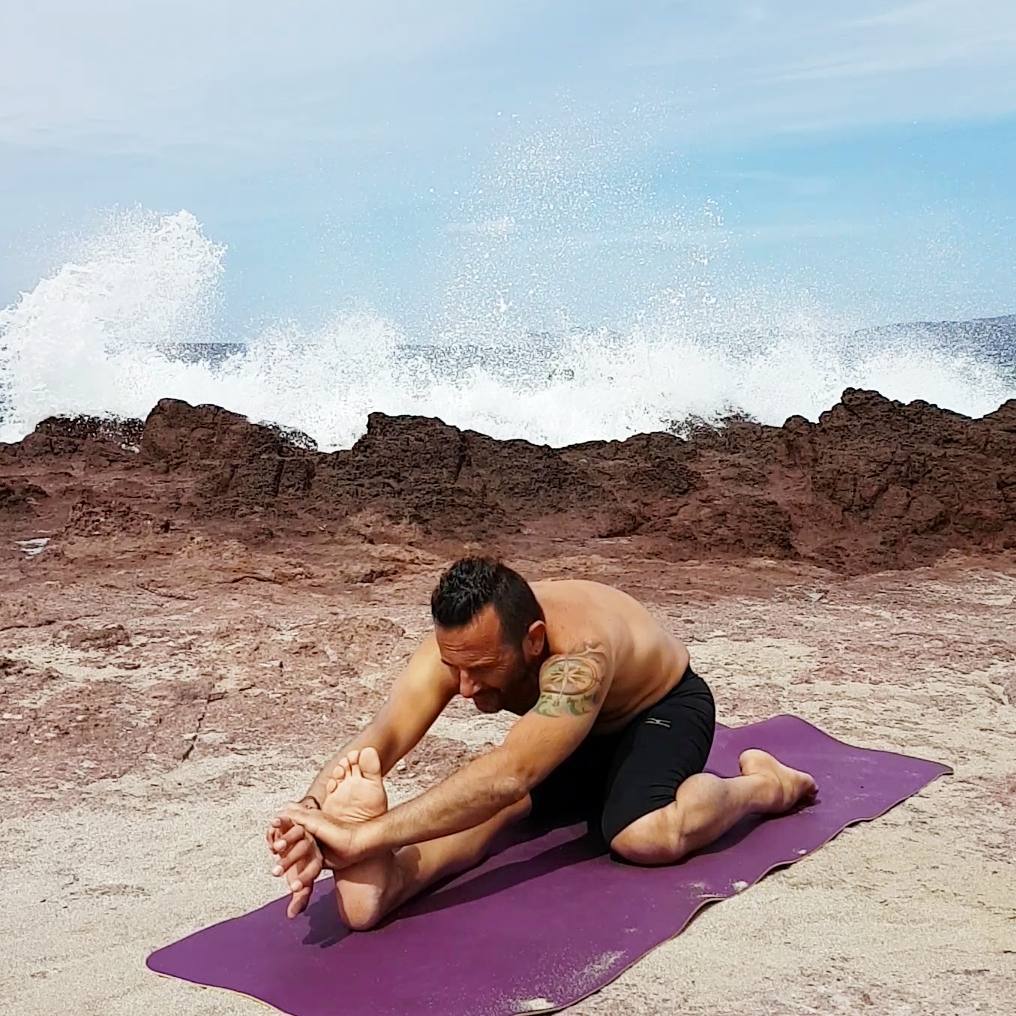 Precautions of Trianga Mukhaikapada Paschimottanasana:
If you have pain in your knees then you must avoid doing Trianga Mukhaikapada Paschimottanasana
Do not put too much emphasis on your physical potential
In case you are suffering from lower back pain then do not try to practice Three-Limbed Forward Bend
If you have a hamstring injury, then do not try the Trianga Mukhaikapada Paschimottanasana at all
Do not practice this asana during your menstruation period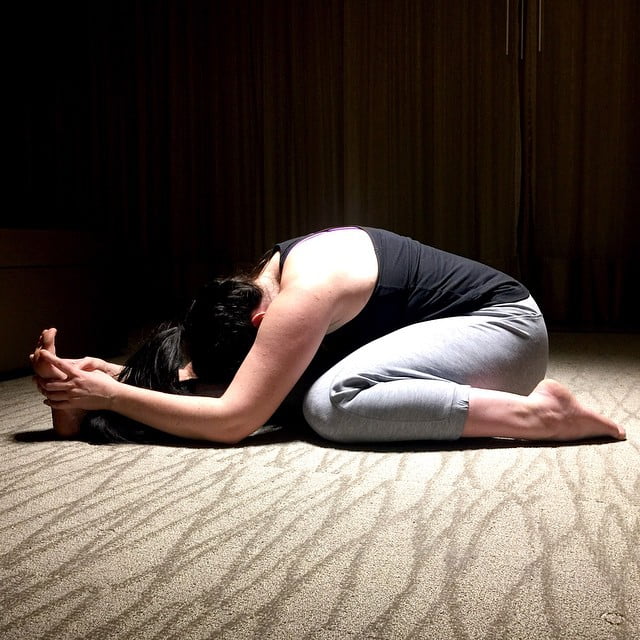 Benefits of Trianga Mukhaikapada Paschimottanasana:
Regular practice of this asana regulates your digestion system
The practice of Trianga Mukhaikapada Paschimottanasana makes our spine more flexible
If you practice the Three-Limbed Forward Bend regularly then it will help you to calm your mind and thus it will increase your concentration
The practice of Three-Limbed Forward Bend tones and stimulates our abdominal organs
Regular practice of Trianga Mukhaikapada Paschimottanasana helps to open our hips and thus strengthens them
This asana improves our flexibility in the knee joint, hamstrings, and hips
Helps to reduce constipation and flatulence
Great pose for flat feet and dropped arches
Three-Limbed Forward Bend helps to eliminate any type of leg inflammation
This asana regulates your menstruation and thus help you to get rid of menstruation problems (Only in women)
Trianga Mukhaikapada Paschimottanasana is a good yoga pose for ankle and knee sprains
This asana helps to reduce the problem of stomach bloating and constipation
Regular practice of Trianga Mukhaikapada Paschimottanasana helps you to get rid of abdominal fat and thus tones the stomach muscles